Barcelona restaurant staff were left amazed when three American celebrities entered the establishment for a last-minute booking. The group included former US President Barack Obama, legendary musician Bruce Springsteen, and renowned filmmaker Steven Spielberg.
Upon seeing the iconic trio, the restaurant staff could barely contain their excitement. They constantly checked on the table to ensure that their guests were having an unforgettable experience. The restaurant's head chef, Juan Carlos, even came out of the kitchen to personally prepare a special dish for the esteemed guests.
In an interview with The Guardian, Juan Carlos said, "It was a once-in-a-lifetime experience. We were just so grateful and happy to serve them. It was like a dream come true for all of us."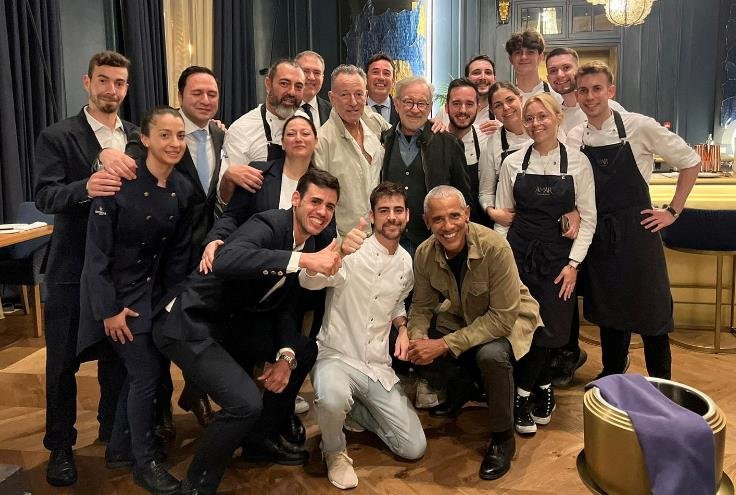 Obama, Springsteen, and Spielberg Enjoy the Night
According to sources, the three friends were in Barcelona to attend a Springsteen concert. After the show, they decided to grab a bite to eat before calling it a night.
The dinner party guests reportedly ordered a variety of dishes, including the restaurant's signature paella and ham croquettes. They also indulged in some of the restaurant's finest wines from the Catalonia region.
The Group Was Well-Received by Fans on Social Media
Word of the famous trio's dining experience quickly circulated online, with many fans expressing their excitement at seeing the three icons together. Several photos of the group posing with restaurant staff members were shared on social media, with many users reminiscing about their own encounters with the stars.
The night will undoubtedly be remembered as one of the happiest moments in the restaurant's history. The arrival of Obama, Springsteen, and Spielberg will remain as a legendary night and highlight in the culinary history of Barcelona.