The Minnesota Timberwolves have locked up one of their young stars for the long term, as they have reportedly agreed to a five-year, $136 million contract extension with forward Jaden McDaniels.
McDaniels, who was drafted with the 28th pick in the 2020 NBA draft, had a breakout rookie season with the Timberwolves, averaging 9.3 points, 3.7 rebounds, 1.4 assists and 1.1 blocks per game. He also shot 36.4 percent from beyond the arc and played excellent defense on multiple positions.
The 21-year-old was one of the most improved players in the league last season, as he increased his scoring average by 6.6 points, his rebounding average by 2.2 boards and his block average by 0.7 swats from before and after the All-Star break.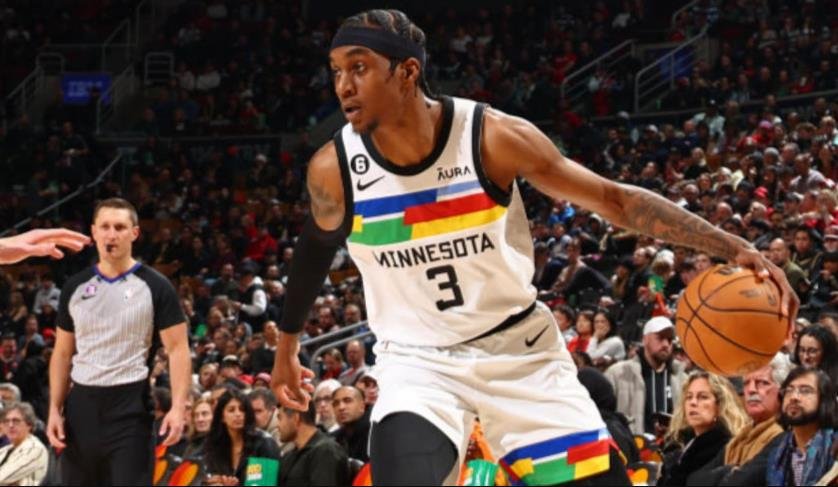 He also earned praise from his teammates and coaches for his work ethic, versatility and potential.
"Jaden is a special talent," Timberwolves star Karl-Anthony Towns said in April. "He's someone who works extremely hard every day. He's very quiet, but he's a dog. He has that killer instinct in him."
"He's got a chance to be really good in this league for a long time," Timberwolves head coach Chris Finch said in May. "He's got great size, great length, great athleticism. He can shoot the ball, he can handle the ball, he can pass the ball. And defensively, he can guard one through five."
McDaniels joins Timberwolves' core
By signing the extension, McDaniels will remain with the Timberwolves through the 2027-28 season, joining Towns, D'Angelo Russell and Anthony Edwards as the core of the franchise.
The Timberwolves are hoping that this quartet can lead them to success in the competitive Western Conference, as they have not made the playoffs since 2018 and have not won a playoff series since 2004.
The team finished last season with a 23-49 record, but showed signs of improvement after hiring Finch as their head coach in February. They went 16-25 under Finch, including 9-7 in their last 16 games.
The Timberwolves also have the third overall pick in the upcoming NBA draft, which they could use to add another young talent or trade for a veteran player.
McDaniels overcomes draft night drama
McDaniels' journey to the Timberwolves was not a smooth one, as he was involved in multiple trades on draft night last year.
He was originally selected by the Los Angeles Lakers with the 28th pick, but was immediately traded to the Oklahoma City Thunder along with Danny Green for Dennis Schroder.
The Thunder then traded him to the Timberwolves along with Ricky Rubio and the draft rights to Leandro Bolmaro for James Johnson and the draft rights to Aleksej Pokusevski.
McDaniels said he was not bothered by the draft night drama, as he was just happy to be in the NBA.
"I didn't really care where I went," he said in November. "I just wanted to play basketball and show what I can do."
He has certainly done that in his first season with the Timberwolves, and now he has been rewarded with a lucrative contract extension that secures his future in Minnesota.