Art Basel Miami Beach, one of the world's leading art fairs, has announced the list of 277 galleries that will participate in its 2023 edition, which will take place from December 7 to 10 at the Miami Beach Convention Center. The fair will feature a diverse and vibrant selection of artworks from 33 countries and regions, with a special focus on the Latin American scene and the Caribbean diaspora.
New Director and New Exhibitors
This year's edition of Art Basel Miami Beach will be the first one under the direction of Bridget Finn, who was appointed as the new director of Americas in June. Finn, who was previously the co-founder and director of Reyes | Finn gallery in Detroit, said she was "thrilled" to join the Art Basel team and to work with the galleries and partners in the Americas.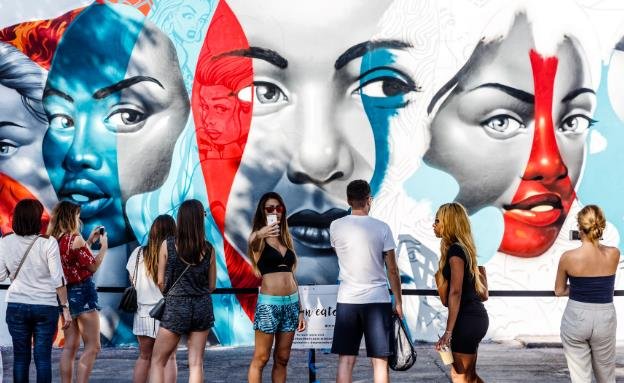 The fair will also welcome 24 first-time exhibitors, including three galleries that have been selected to join the main Galleries sector directly: Galerie Minsky from Paris, Ortuzar Projects from New York, and Weinstein Gallery from San Francisco. The latter two will share a booth to present a solo show of Argentine-Italian surrealist artist Leonor Fini, who was a prominent figure in the Parisian avant-garde scene in the mid-20th century.
Other newcomers include Silverlens from Manila, Gypsum Gallery from Cairo, Galatea from São Paulo, and Llano from Mexico City, among others. They will join the established names such as Pace, Hauser & Wirth, David Zwirner, and Gagosian, as well as regional leaders such as Mendes Wood DM, kurimanzutto, and Nara Roesler.
A Spotlight on Latin America and the Caribbean
Art Basel Miami Beach has always been a platform for showcasing the art and culture of Latin America and the Caribbean, given its geographical proximity and historical ties. This year, the fair will highlight this connection even more, with several sectors and programs dedicated to the region.
The Nova sector, which features new works by up to three artists from each gallery, will present six projects by artists from Latin America or with roots in the region. They include Eduardo Navarro from Argentina, Ana Mazzei from Brazil, Ana Bidart from Uruguay, Gala Porras-Kim from Colombia, Carlos Motta from Colombia/USA, and Firelei Báez from Dominican Republic/USA.
The Positions sector, which showcases solo presentations by emerging artists, will also feature eight projects by artists from or related to Latin America and the Caribbean. They include Ana Prata from Brazil, Daniel Lind-Ramos from Puerto Rico, Manuel Solano from Mexico, Claudia Martínez Garay from Peru/Netherlands, Carlos Bunga from Portugal/Colombia/USA, Joiri Minaya from Dominican Republic/USA, Agustina Woodgate from Argentina/USA, and Adler Guerrier from Haiti/USA.
The Survey sector, which highlights historical rediscoveries, will include seven projects by artists who have made significant contributions to the art history of Latin America and the Caribbean. They include Leonor Fini from Argentina/Italy/France, Carlos Cruz-Diez from Venezuela/France, Lygia Clark from Brazil/France, Gego from Germany/Venezuela, Teresa Burga from Peru/Germany/USA, Emilio Sanchez from Cuba/USA, and Edouard Duval-Carrié from Haiti/USA.
Beyond the Fair
In addition to the fair itself, Art Basel Miami Beach will also offer a rich program of events and activities that will extend beyond the convention center. These include:
The Meridians sector, which will feature large-scale sculptures and installations by 34 artists at the Grand Ballroom of the convention center. Curated by Magalí Arriola, director of Museo Tamayo in Mexico City, this sector will include works by artists such as Alfredo Jaar, Teresa Margolles, Oscar Murillo, Rirkrit Tiravanija, and Haegue Yang.
The Conversations program, which will bring together leading figures from the art world to discuss various topics related to contemporary art and culture. Moderated by Finn and Arriola, this program will feature speakers such as Hans Ulrich Obrist, Gabriela Rangel, Franklin Sirmans, María Belén Sáez de Ibarra, and Pablo León de la Barra.
The Film program, which will screen a selection of films by and about artists at SoundScape Park. Curated by Marian Masone, this program will include films by artists such as John Akomfrah, Isaac Julien, Shirin Neshat, Rosalind Nashashibi, and Cauleen Smith.
The Public sector, which will present outdoor sculptures and interventions by 15 artists at Collins Park. Curated by Philipp Kaiser, this sector will include works by artists such as Elmgreen & Dragset, Alicja Kwade, Erwin Wurm, and Hank Willis Thomas.
The Edition sector, which will showcase prints and multiples by renowned artists at the convention center. This sector will include works by artists such as Damien Hirst, Kara Walker, Kiki Smith, and Ai Weiwei.
With such a diverse and dynamic program, Art Basel Miami Beach 2023 promises to be a memorable and exciting experience for art lovers and collectors from around the world.