The Army has unveiled four prototypes of its robotic combat vehicle (RCV) program at the annual Association of the US Army (AUSA) conference in Washington, DC. The RCV is an unmanned system that will operate alongside manned units and perform missions that are too risky for soldiers, such as intelligence, reconnaissance and surveillance.
A new approach to RCV development
The RCV program has undergone some changes since it was launched in 2019. Originally, the Army planned to develop three variants of the RCV: light, medium and heavy. However, in October 2023, the service announced that it would focus on a single size, somewhere between the former light and medium requirements.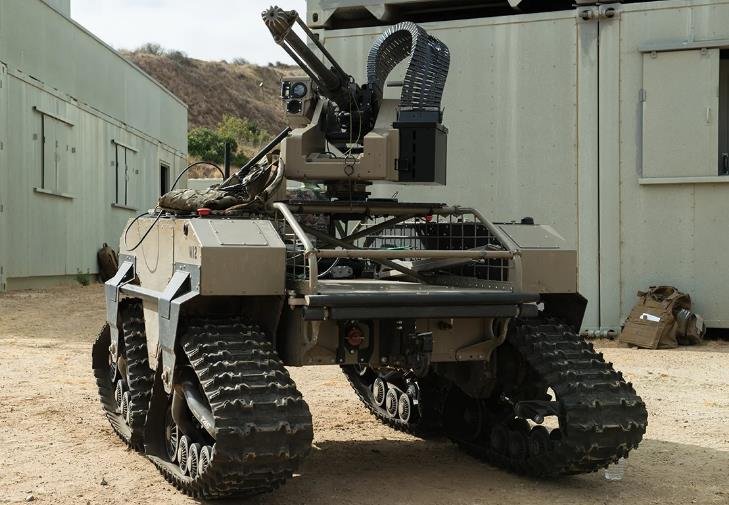 "It's really now about payload," as opposed to size, Maj. Gen. Glenn Dean, the chief program officer for ground combat systems, told Defense News. He added that the Army wants to have a common chassis for the RCV that can accommodate different payloads depending on the mission.
The Army awarded four contracts worth $25 million each to McQ, Textron Systems, General Dynamics Land Systems and Oshkosh Defense in late September 2023 to deliver two prototypes each by August 2024. The service will then select one winner to provide nine more prototypes by fiscal year 2025. The first unit is expected to be fielded in 2028.
A diverse range of prototypes
The four companies competing for the RCV program displayed their prototypes at the AUSA conference, showcasing their different designs and capabilities.
McQ, based in Fredericksburg, Virginia, is working as the prime contractor on a team that includes BAE Systems and HDT Expeditionary Systems, the lead vehicle developer. Their offering, the Wolf-X, is the only one with wheels, as opposed to tracks. The wheels are designed by Michelin with spokes that compress against the surface they're traveling on, almost like the foam on the sole of a running shoe. HDT argued that these increase the vehicle's nimbleness, stealth and durability. According to the company, the Wolf-X runs on a hybrid diesel and electric engine and can sustain speeds above 40 miles per hour. Its range extends past 150 miles, and fitted with the base equipment required by the Army — fuel, munitions, a weapons system and UAS — it weighs around 16,000 pounds. "It meets all the Army's requirements for both the base vehicle, that's relatively lightweight, as well as it can carry more than the Army's required payloads," said Thomas Van Doren, chief technology officer and vice president of engineering at HDT. "This has a significant amount of growth capability."
Textron Systems showcased its RIPSAW M3, which is part of the company's larger family of RIPSAW vehicles. Their larger M5 was among the entries competing for the Army's RCV medium variant before the competition was deferred in 2022. "There's a lot of commonality between our medium and our light," said Dave Phillips, Textron senior vice president for land and sea systems. The RIPSAW M3 is a tracked vehicle that can reach speeds of up to 50 miles per hour and has a range of over 300 miles. It weighs about 14,000 pounds and can carry up to 4,000 pounds of payload. It can also operate autonomously or semi-autonomously using Textron's Synturian control system.
General Dynamics Land Systems displayed its MUTT (Multi-Utility Tactical Transport) M5A1, which is an upgraded version of its MUTT M5 that was originally developed for the Marine Corps. The MUTT M5A1 is also a tracked vehicle that can travel at speeds of up to 35 miles per hour and has a range of over 200 miles. It weighs about 12,000 pounds and can carry up to 3,000 pounds of payload. It can be controlled remotely or autonomously using GDLS' Robotic Operating System Military (ROS-M) software.
Oshkosh Defense presented its TerraMax UGV (Unmanned Ground Vehicle), which is based on its Joint Light Tactical Vehicle (JLTV) platform. The TerraMax UGV is a wheeled vehicle that can reach speeds of up to 70 miles per hour and has a range of over 400 miles. It weighs about 18,000 pounds and can carry up to 5,000 pounds of payload. It can operate autonomously or semi-autonomously using Oshkosh's TerraMax technology.
A vision for future warfare
The Army hopes that the RCV program will enhance its capabilities and survivability in future warfare scenarios. The RCV will be able to scout ahead of manned units, provide fire support, breach obstacles, conduct resupply and casualty evacuation missions.
The RCV will also be integrated with other elements of the Army's Next Generation Combat Vehicles (NGCV) portfolio, such as the Optionally Manned Fighting Vehicle (OMFV) and the Mobile Protected Firepower (MPF) vehicle. The NGCV is the Army's modernization effort to replace its aging fleet of Bradley Fighting Vehicles and Abrams tanks.
The Army plans to conduct a series of experiments and demonstrations with the RCV prototypes to evaluate their performance and refine the requirements. The service also intends to involve soldiers in the testing and feedback process to ensure that the RCV meets their needs and expectations.