Alexa Grasso, the new UFC women's flyweight champion, has no problem with giving Valentina Shevchenko a rematch at Noche UFC, the event celebrating Mexican independence day. Grasso shocked the world when she submitted Shevchenko in the fourth round of their first fight at UFC 285 in March, ending Shevchenko's dominant reign over the division. Grasso said she expected Shevchenko to get another shot at the title, as it is a tradition in the UFC to respect the former champions.
"I'm someone who respects the rules and abides by the company's decision. Also, for me, it's an honor to fight her again, because we can't forget about everything she's done. She's a great athlete and has done incredible things for the sport, not only on the female side but the sport overall," Grasso told MMA Junkie in Spanish.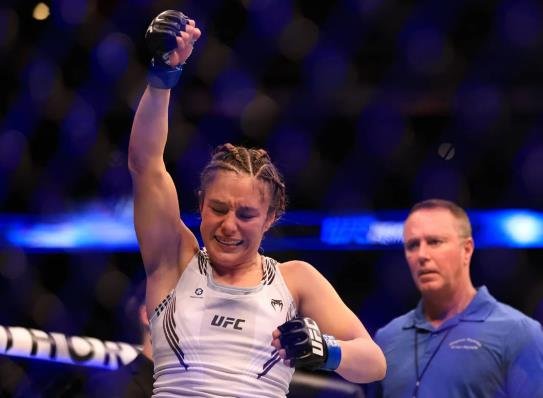 Grasso said she is motivated by the challenge of facing Shevchenko again, and believes both fighters will bring new skills and strategies to the rematch. She said she is ready for any scenario, whether it is striking or grappling.
"Wherever she wants to take the fight, I'm ready. I'm excited, and I'm eager to get in the octagon. I want to fight now. I'm so excited. Of course, things like the first fight can happen. We all have our weak points and strengths, so we'll see how it goes," Grasso said.
Shevchenko vows to reclaim her throne
Valentina Shevchenko, on the other hand, is determined to avenge her loss and regain her title. Shevchenko had defended her belt seven times before losing to Grasso, and was widely considered one of the best pound-for-pound fighters in the world. Shevchenko said she made a mistake in the first fight, and that it will not happen again.
"It was a bad night for me. I underestimated her grappling skills, and I paid the price. But I learned from it, and I improved my game. I'm not going to let her catch me with anything this time. I'm going to be more aggressive, more precise, and more dominant. I'm going to show everyone why I'm still the best flyweight in the world," Shevchenko said on The MMA Hour.
Shevchenko also dismissed the possibility of fighting Grasso in Mexico, saying that she does not care about the location or the crowd. She said she is used to fighting in hostile environments, and that she would be ready to compete at any altitude.
"I don't care where we fight. It doesn't matter if it's Mexico, Las Vegas, or anywhere else. I'm a professional fighter, and I can adapt to any situation. I've fought in high elevation before, and I know how to prepare myself. It's not going to affect me at all. The only thing that matters is what happens inside the cage," Shevchenko said.
Noche UFC: A historic event for Mexican MMA
Noche UFC: Grasso vs Shevchenko 2 will take place on Saturday, September 16 at T-Mobile Arena in Las Vegas. The event will feature several Mexican fighters and celebrate the country's rich culture and history. It will also mark the first time that a Mexican-born fighter defends a UFC title.
Grasso said she is proud to represent Mexico on such a special occasion, and hopes to inspire more people from her country to pursue their dreams in MMA.
"It's an amazing opportunity for me and for all the Mexican fighters on the card. It's a huge honor to be part of this event, and to show the world what we can do. Mexico has a lot of talent and passion for this sport, and we want to make our people proud. I hope this event will open more doors for us, and encourage more young Mexicans to follow their dreams," Grasso said.
Noche UFC: Grasso vs Shevchenko 2 will also feature a co-main event between former bantamweight champion Cody Garbrandt and rising star Sean O'Malley, as well as a heavyweight clash between Francis Ngannou and Curtis Blaydes.